Garden landscaping – a 9 step guide to landscape a garden from scratch
To really feel the benefits of your garden space, you'll need to follow some ground rules to ensure the most successful results.
It's a case of working with your foundations so that your planting and other cosmetic finishes can fall into place far more attractively. From weeding, to ground leveling, the best landscaping plants to use and which trees to consider, these garden landscaping ideas and tips will set you up for success.
1. ASSESS YOUR SITE AND YOUR GARDEN DESIGN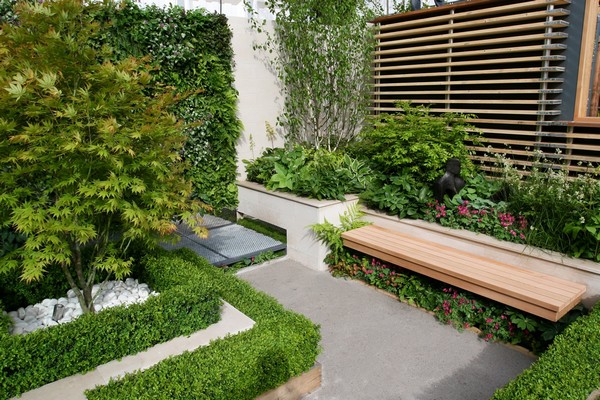 This is a crucial area that you should largely have covered when creating your garden design to understand the space you're working with. The main reason of this when part of the garden landscaping process, is that you'll be looking to identify any issues so that you can prepare your efforts and materials accordingly – which will save you time and money in the long run.
This is what to consider:
Any rubbish to remove
Ground condition: will it need levelling?
Any awkwardly situated trees: likely to obstruct walkways or get in the way of groundwork
Any existing planting: hedges, garden beds and so forth
Any existing structures or features in place to remove/work with: fencing, garden rooms, water features, garden paths
Drainage: the state of the space after a downpour, any particular areas that become waterlogged
Top soil: the current state of any existing and will any be required
2. DECIDE WHETHER TO DIY OR HIRE A GARDEN LANDSCAPER
The key here is to know your limits and your budget. Planting, installing off-the-peg water features, adding a new gravel path or lawn, laying decking and garden fencing are within the scope of the keen amateur; however, walling, laying expensive stone pavers, concrete rendering and electrical work should be carried out by professionals for a quality, safe finish, even if you do have a small plot.
3. CLEAR THE SITE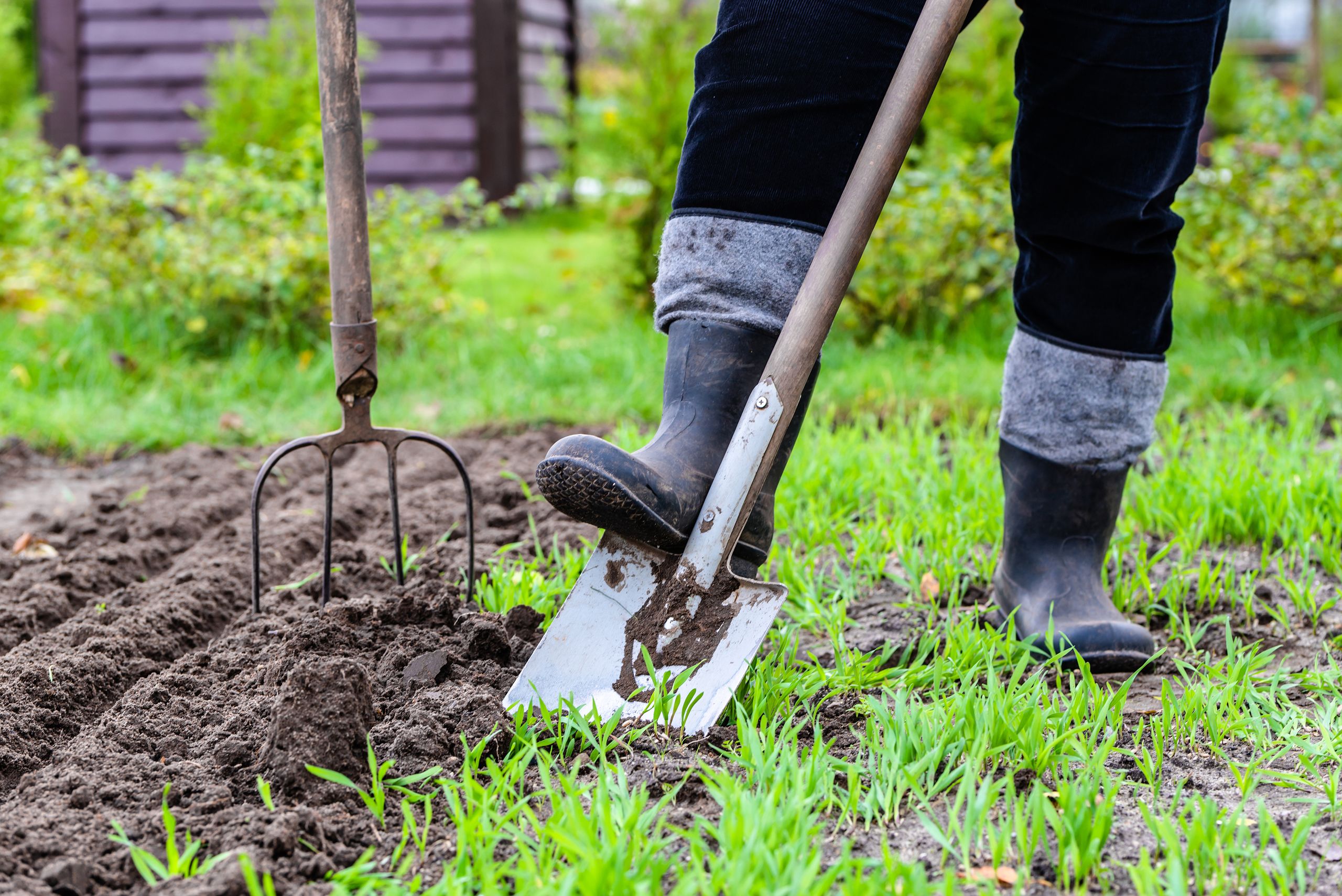 This means tending to weeds (everyone's favourite job), overgrowth and getting rid of any garden waste. Visible rubbish is easy to remove, but using a pick (if the soil is compacted), or a garden rake (if you're lucky!) and disturbing the soil can help release any rubble to be removed below.
This can be a tough job but it is completely necessary, especially if you're planning for lots of planting and vegetable growing. Big chunks of rubble make it harder for plants to establish and can potentially block drainage access also.
Determine whether this will be a light job and easy to do yourself, or if you need to hire a skip.
4. LEVEL THE GROUND
This is a vital task as without a level ground, any landscaping materials such as patio and decking can't go down.
If you have a small garden space then you may be able to achieve a level ground yourself using a rake. Use the teeth to break up large chunks of soil, while the back can also be used to smooth the surface by running it in a forward and backwards motion to evenly distribute the soil.
If you have a big space where the soil is very compacted, or if you are working with a sloping garden, then you may need to consider some professional help.
HOW TO LEVEL A SLOPING GARDEN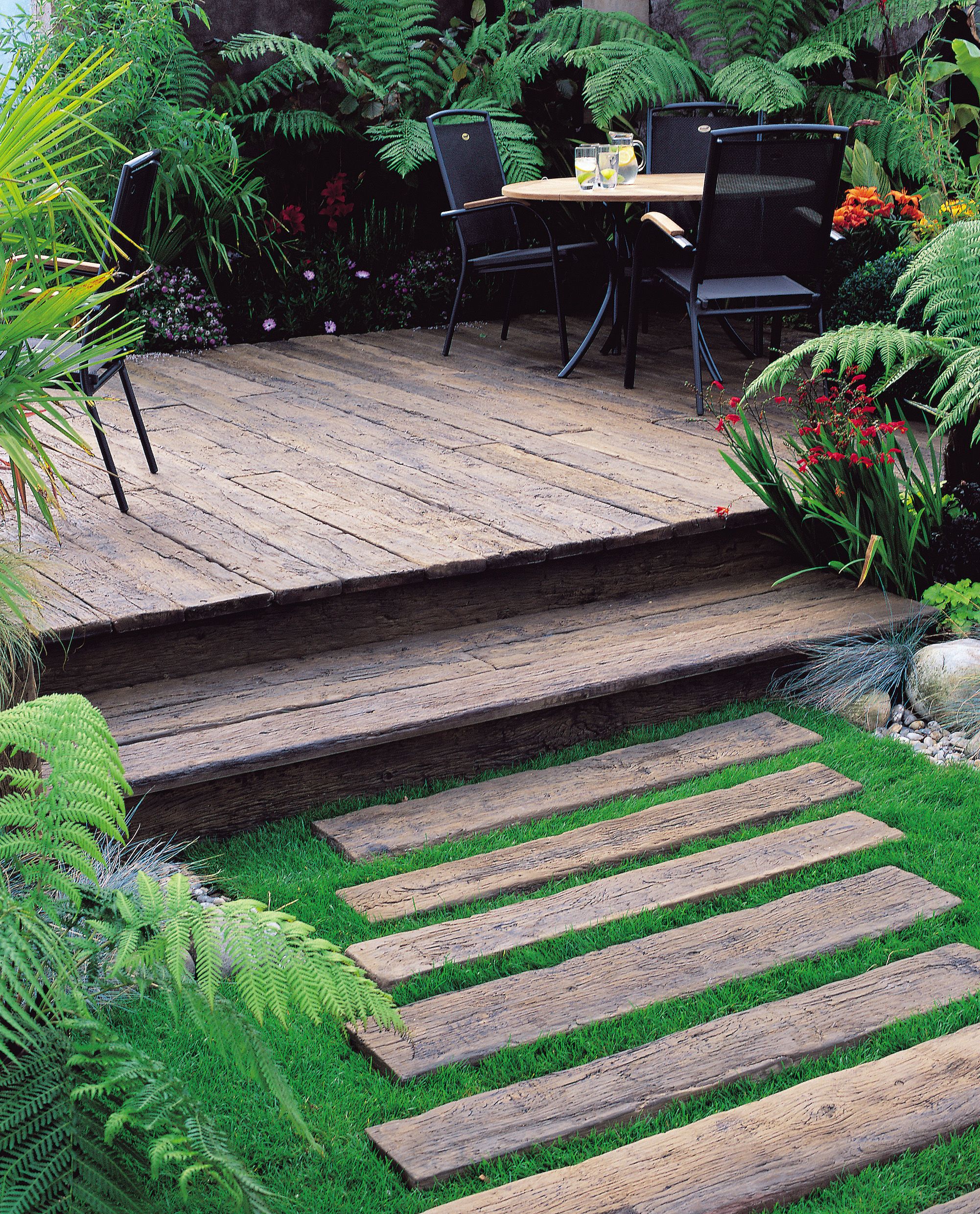 A subtle change in level can help make a smaller garden feel larger, but sloped grass is a no no as it can become slippy and unsightly very quickly. Terracing is probably the best way to work with a sloped garden, and it will allow you to have different levels of interest in your space.
Do bear in mind, however, that significant excavations are expensive. There's the soil to remove and retaining walls are needed (to stop soil washing away), so you'll usually need to call in help from a professional structural engineer which can mean landscaping costs will add up.
5. SELECT HARD LANDSCAPING MATERIALS THAT WILL STAND THE TEST OF TIME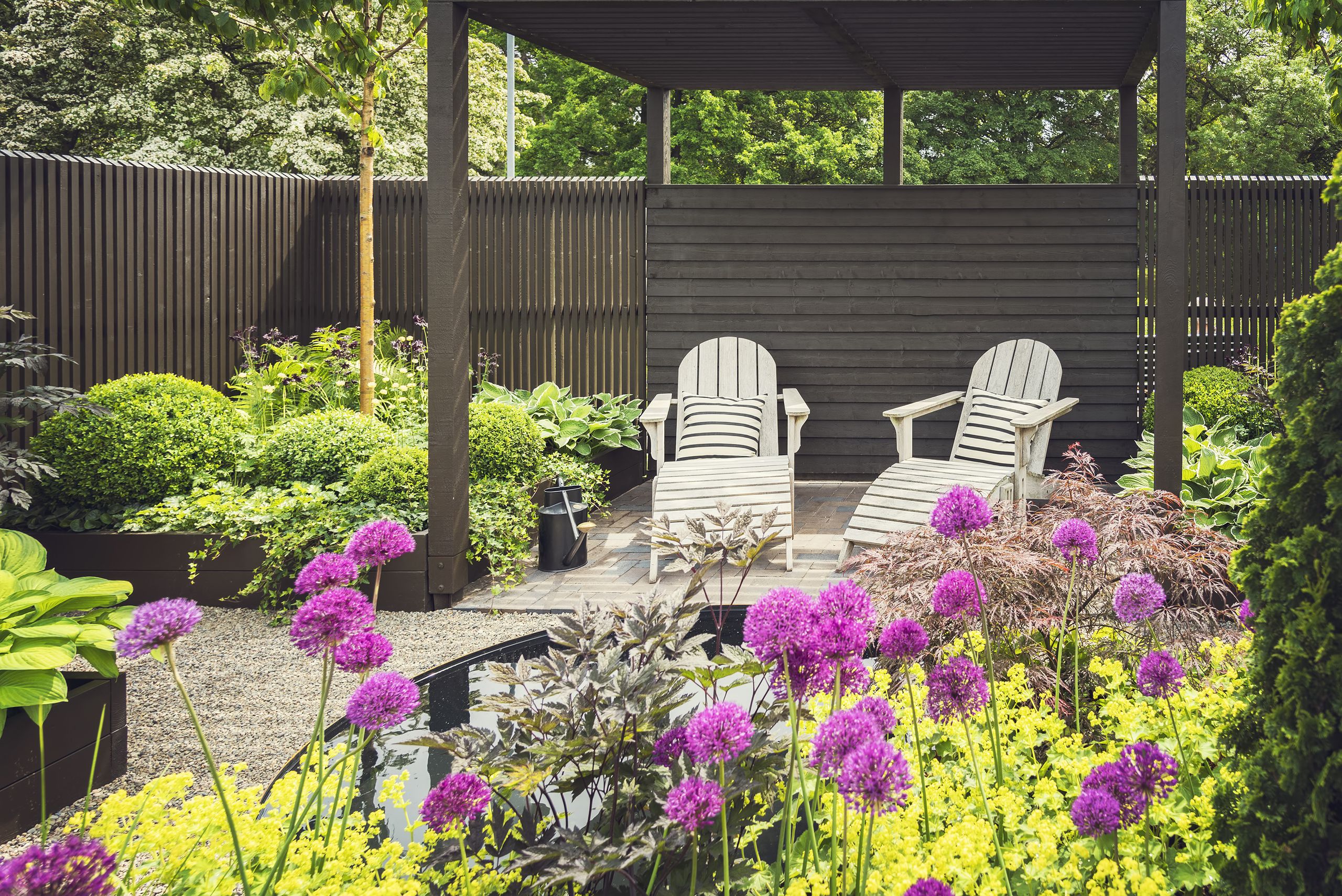 Identifying and exploring potential materials is one of the more enjoyable parts of landscaping a garden.
While performance, durability and ease of maintenance are key with all materials used in a garden setting, you should choose natural-looking surfaces that complement your home and design style. Earthy greys, deep honey browns and rustic dull reds suit both period and new houses.
To successfully link your indoor and outdoor spaces, choose a similar material to that used in the room linked to the garden – just make sure it's weatherproof. And, otherwise, garden designers will usually keep things simple by sticking with four different materials max. Here are some options:
Patio paving: There are lots of options available – from expensive York stone to concrete imitations, brick and granite.
Decking: Can be a good choice where wooden flooring is used inside the house – very well suited in contemporary homes. Timber, oak and even teak can be perfect for a busy garden area as they are durable and stable materials that can deal with heavy footfall. Your decking will need a good pressure wash every once in a while to keep algae and any slipperiness at bay, but it's sure to keep your garden looking fine for years to come.
Garden gravel: Is an ideal material to use in both modern and period garden settings. It's versatile and can be used to edge a patio, create more of a themed space or you could even lay a gravel path which is a cost-effect garden path idea.
Concrete flooring: will give you a great, contemporary finish and is a brilliant way to create uniformity between the outside and inside of your home.
Granite sets: can make an impact, and as they are typically used in driveway design so they will last for years to come.
6. PLAN YOUR PLANTING
This is the fun part, and plants, trees and any shrubbery should come next on the list, ahead of adding any garden lawns. The type of garden plants you choose, of course, depends on your garden's design and the overall feel that you want to create in your outdoor space, but it also depends on the type of soil you have and on your garden's aspect. Generally, a mixture of trees, flowers and evergreen shrubs will work well, creating year round interest.
7. THINK ABOUT ZONING DIFFERENT AREAS IN YOUR GARDEN

Zoning can make the best use of all types of garden space: be that in a spacious cottage garden or in a small garden setting. Zoning can help define an outdoor kitchen, vegetable plot or family outdoor living space and so on – here is how to go about it like a professional:
Choose different hard landscaping and floor surfaces: To differentiate between the dining, lounging and play areas. Obvious options include a stone material for the dining space, decking for the lounging area, and bark or grass for the play area.
Use different colours on fencing or walls: To create separate zones. White is a good backdrop for lounging areas that you want to feel bright and sunny, deep greens are good for making play areas blend into the background, while deep shades, such as blue or aubergine make dining areas feel atmospheric during long summer evenings
Let planters do the talking: Plants can help define zones too, especially if you go for a strong colour theme by area. So, if your lounging space has a white wall behind it and light-coloured decking, choose white flowers. If your dining space has dark-coloured decking and aubergine walls, go for deep purple plants.
Architectural planting: Can be used to divide up zones. A line of shapely box plants, set into a low wall, takes up very little space but creates a strong visual divide between the lounging and dining areas. Or, group tall, tropical-looking plants at the far end of a dining space to disguise a play area beyond.
Don't neglect vertical space: living walls, screens, arbours, pergolas and trellis all provide garden privacy and somewhere to train flowering climbers for visual interest. Paint them to match your scheme; or, if you want your planting to do the talking, choose a neutral, natural paint shade for them, such as olive green or pale grey.
8. ADD THE FINAL TOUCHES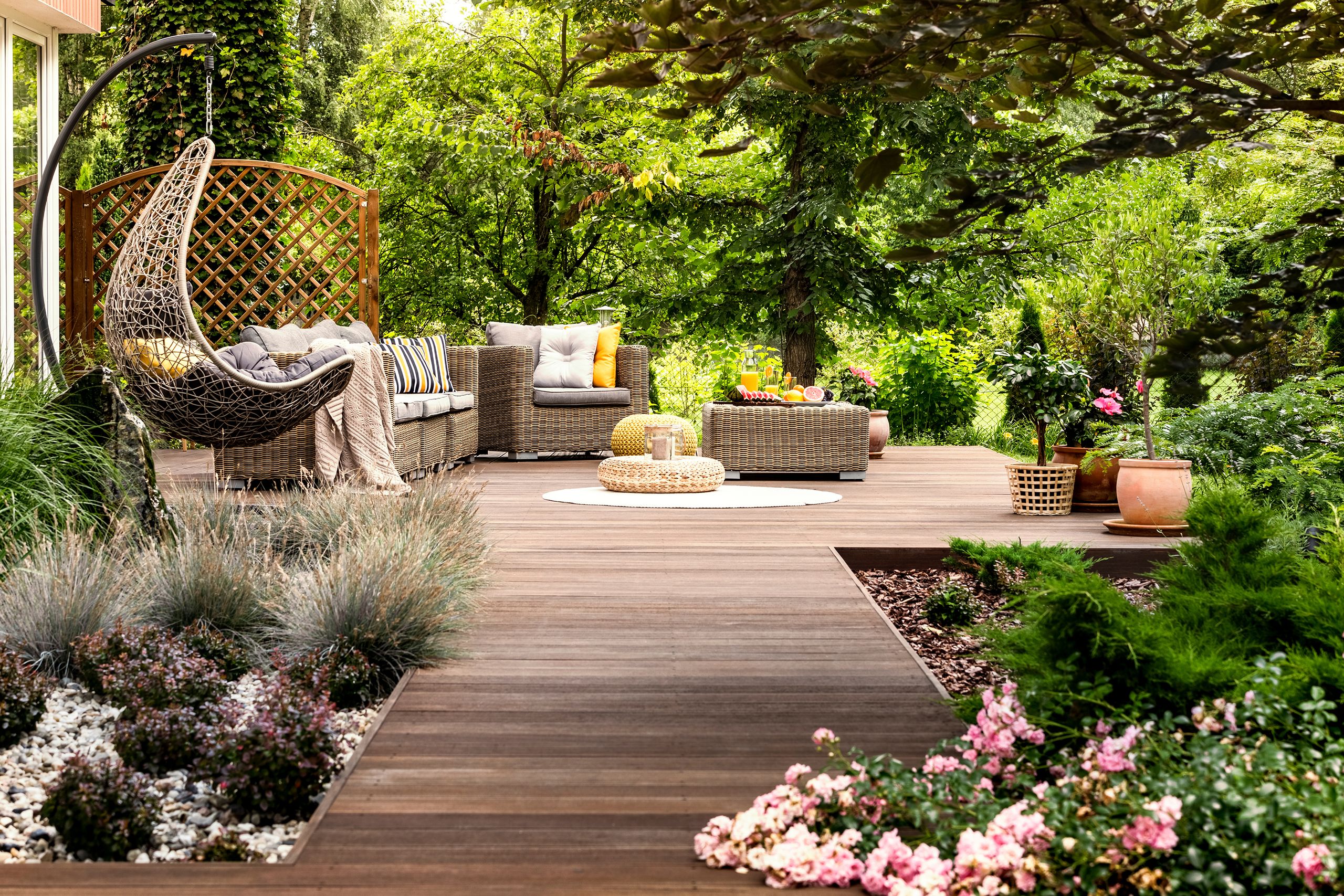 Last but absolutely not least is when you should start adding final touches to water features including any ponds that need filling. This is also when you can start to fill raised beds for your kitchen garden and so on. At which point you'll be able to sow your lawn, or lay any turf around it (if you want one that is!) to let it establish.
9. TIDY UP
Or rather trim up, as once your grass has established you can mow it to your desired shape and make a start on your lawn edges. If you don't have a lawn then move onto the decorative aspects of your garden design to fulfill all of your outdoor space needs.
source: realhomes