7 Tips to Enjoy Your Outdoor Living Space this Summer
Can you believe it is June already? Summer is the ideal season to enjoy good time outdoors. The weather has been wonderful and you should really enjoy your outdoor living space. Here are seven tips to enjoy your outdoor living space this Summer.
1) Furnish Your Outdoor Space Just Like Your Home
Furnish your outdoor space as if it is a room inside your home. Give it a purpose. Is it for dining, or lounging, or a place to cook an entire meal? Don't forget to include the pillows and quilts and accessories.
2) Make Your Outdoor Rooms Comfortable
Adding sources of lighting help to keep you outside, but try to add a feeling of coziness and warmth. To do so, make your patio or outdoor space a true outdoor room by adding the comforts you enjoy indoors: pillows, throws, and blankets to share with a friend while you enjoy gazing at the stars or enjoying a cold drink.
3) A Grill or Outdoor Kitchen
It is true that food tastes better if it's been grilled, and that goes for any season.Gather your friends together for a summer grilling session, or simply enjoy some food with your closest loved ones. Cooking and eating outside will help you make the most of each summer day.
4) Protect yourself from mosquitoes and other insects
Use candles scented lavender or lemon and plants such as basil, mint or thyme, in order to ward off mosquitoes. You can also employ torches using paraffin oil with citronella essence, with which, in addition to light, you'll keep far the annoying insects.
5) Mask sounds with running water
Water is a great way to gently camouflage sounds from close neighbors. Try installing a small fountain near your seating area for a more peaceful atmosphere.
6) Or provide your own soundtrack with outdoor speakers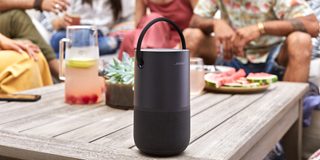 Soft music playing in the background can be just as effective at masking sounds as running water. If you don't have outdoor outlets, try wireless speakers that connect to a sound system in your house.
7) Have enough shade
Sitting outdoors with zero shade on a hot, sunny day is nice … for about five minutes. After that you and your guests will be running for cover. There are lots of options for adding shade to your yard — try freestanding umbrellas, a cloth overhang, lattices, a shade tree or a pergola.