19 Gorgeous DIY outdoor decor ideas for patios, porches, & backyards
1) TALL GRASS PATIO PRIVACY FENCE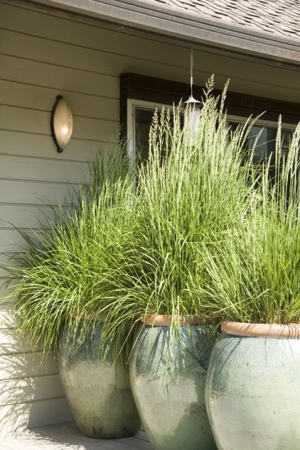 This simple and lush potted lemongrass is an attractive patio statement. Ceramic pots can get expensive! Luckily, you can find plastic varieties that look incredibly similar .One of the neat things about lemon grass is that it works to repel pesky bugs and mosquitoes!
2) OUTDOOR HANGING WICKER SHELVING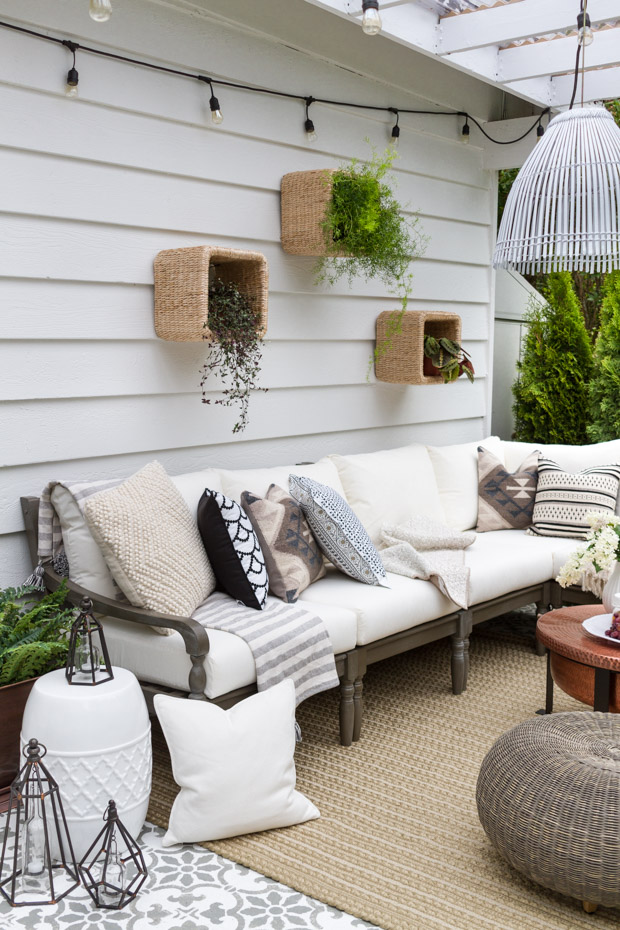 These lovely hanging wicker baskets add definition to the long outdoor seating group. Any wicker basket hung on it's side would work well here.
Adding growing plants or succulents to the baskets makes this design come alive!
3) DECORATING THE OUTSIDE: BRING THE INDOORS OUT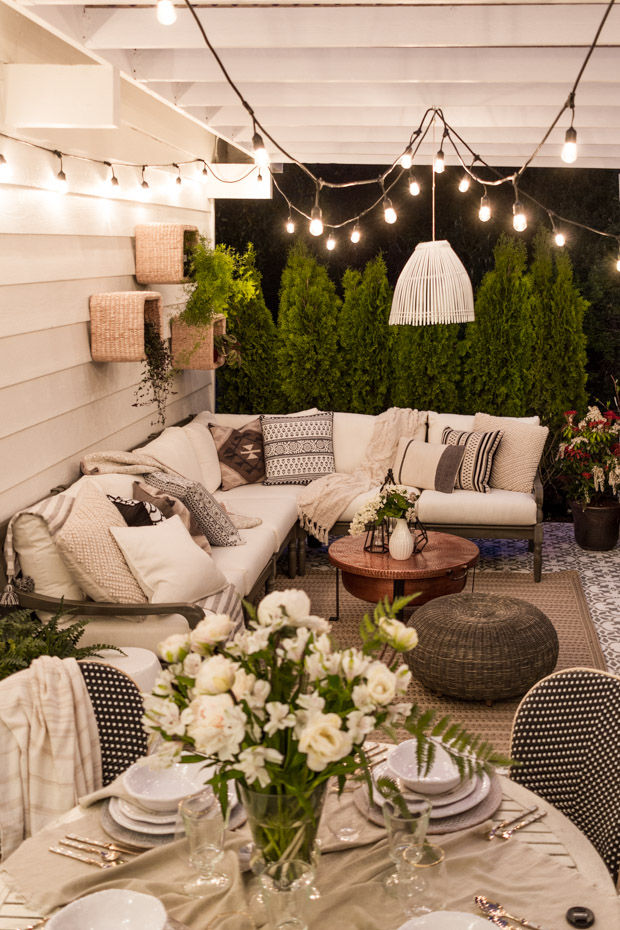 Outdoor throw pillows, coffee tables, gorgeous area rugs, and hanging lighting makes this space feel like it could be someone's living room. When you decorate your patio and transform it into a gorgeous and functional space it will act like a second living area of your home.
4) MAKE A PATIO GEOMETRIC TRELLIS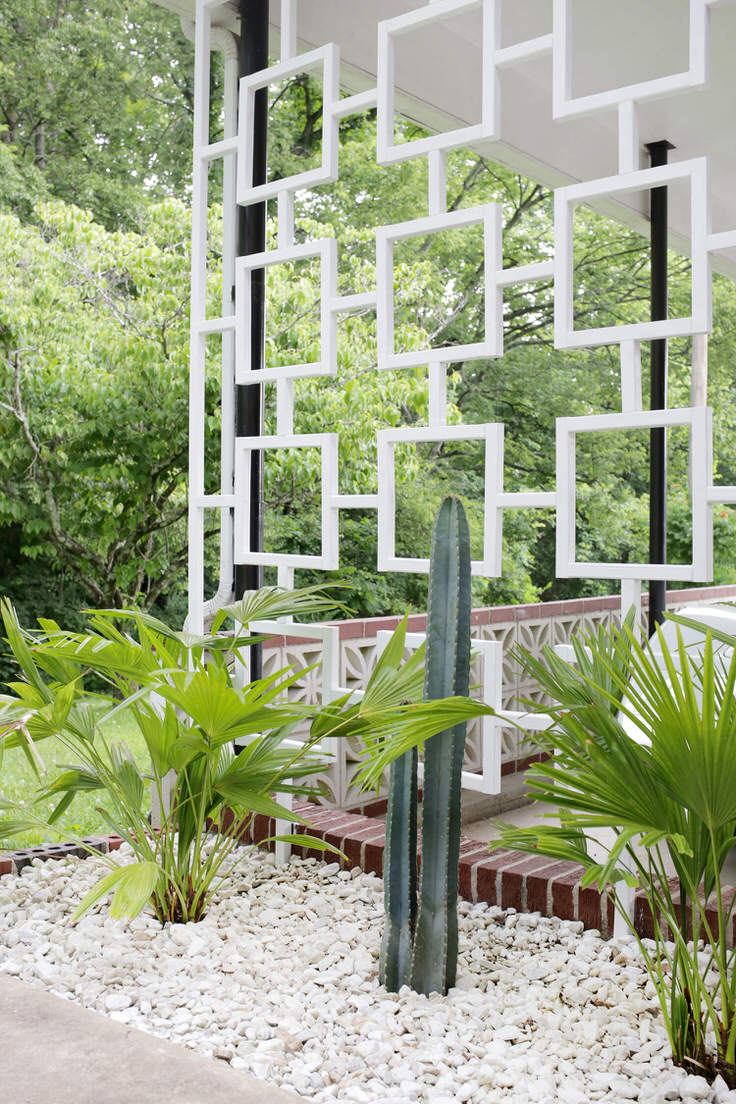 It functions as a great frame for hanging or crawling plants.It is also adds a fun design element and great definition to a bland space.
5) INSTALL OUTDOOR HANGING CURTAINS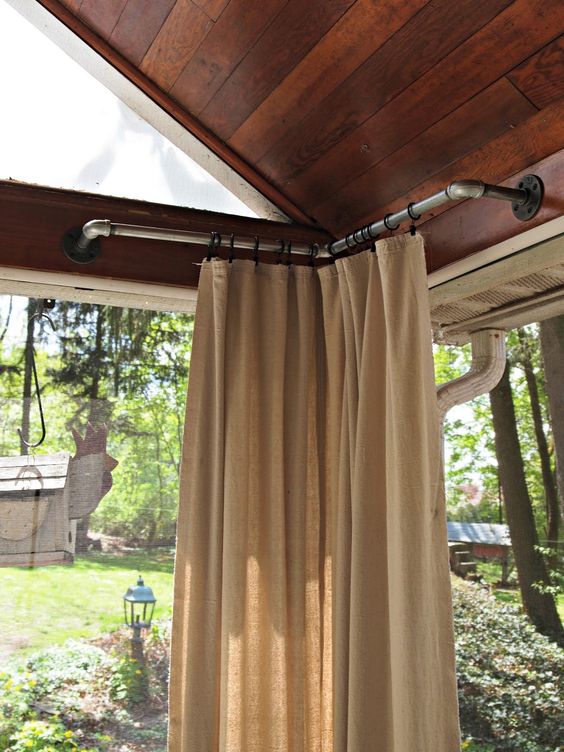 Curtains aren't just for the indoors ! There are a variety of gorgeous and functional outdoor curtains that can weather the elements and look good doing it .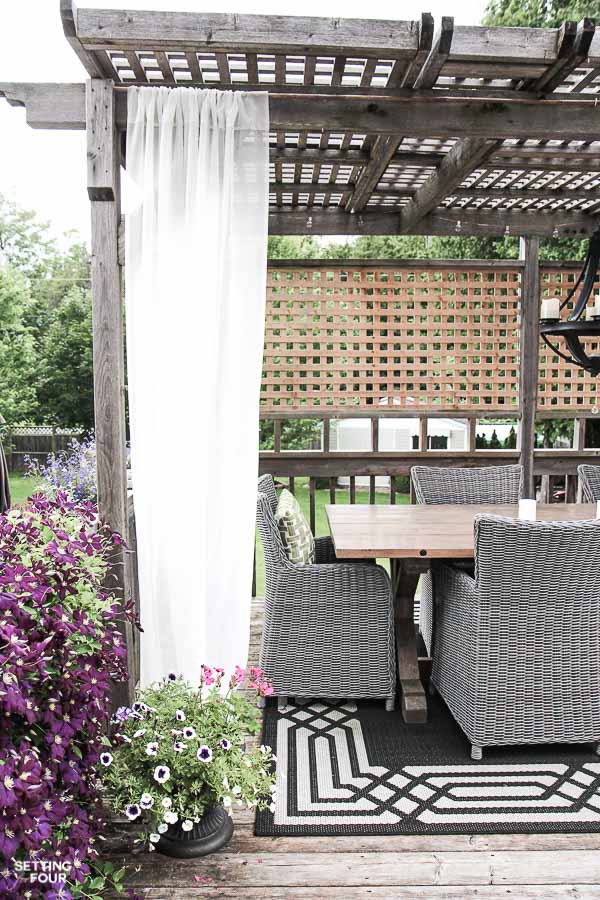 Here is another variety of hanging curtain for you to consider. Sheer, lovely, and will help take the edge off of direct sunlight.
A rod is used to stretch the entire length of the pergola for full functional use.
6) DIY PATIO TABLETOP FIREBOWL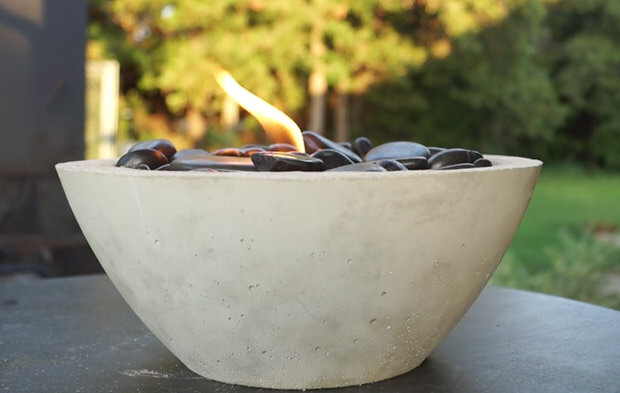 Tabletop fire bowls are all the rage. They are perfect on a table, end table or console. They are calming and stylish.
7) HANGING PORCH LANTERNS OUTDOOR DECOR IDEA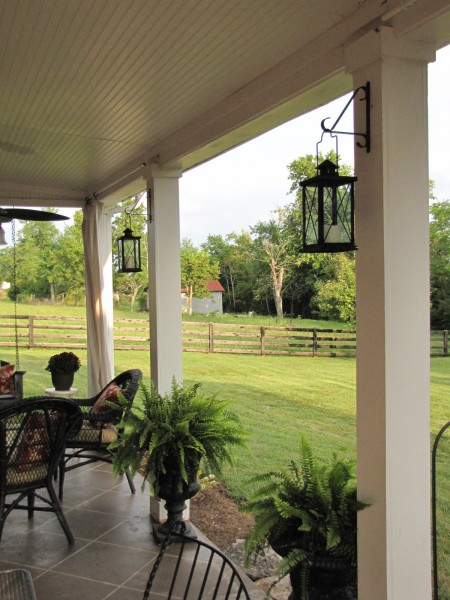 Lighting brings so much to space. These hanging lanterns prevents you from having to string cords or run wiring all over the place!
8) DIY WOODEN ADDRESS NUMBER PLANTER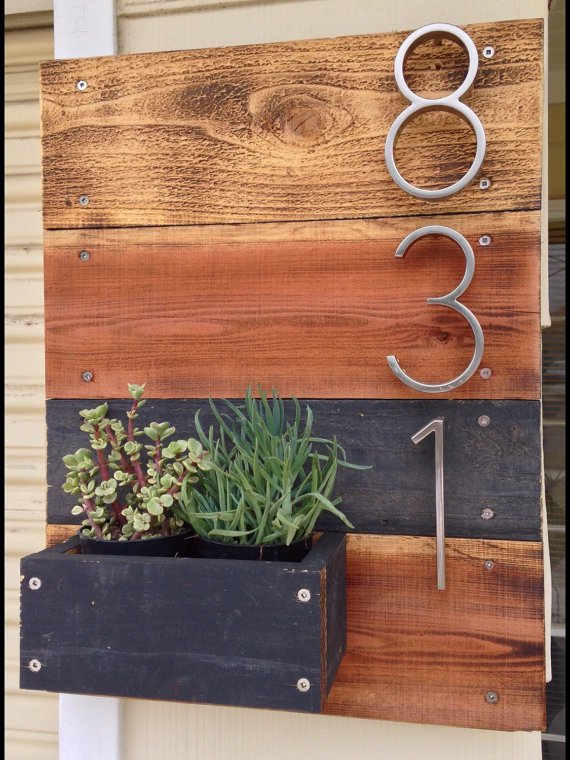 Functional, stylish, and rustic contemporary. This wooden address number planter idea is stylish and addition next to any front door, and the plants can be changed out seasonally for a fresh look.
9) RUSTIC OUTDOOR SUCCULENT GARDEN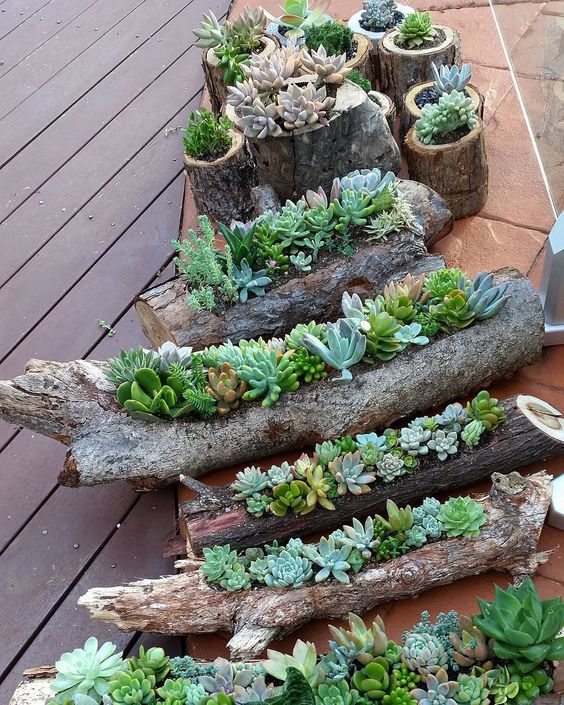 Succulents are so gorgeous. They are easy to grow, and oh so stylish in these hollowed out logs. It would work well on any table or coffee table by bringing rustic texture to your space.
10) DIY OUTDOOR HANGING MASON JAR LIGHTS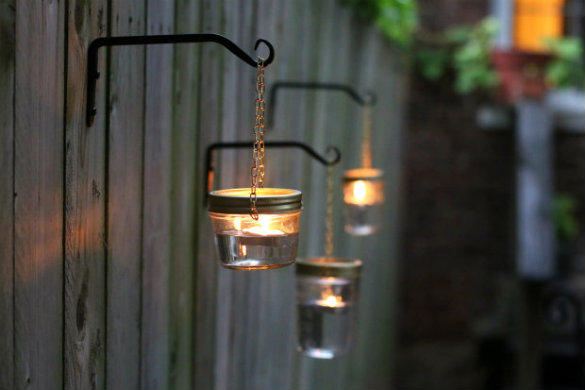 Floating tea lights in water provides the perfect summer glow. What a great way to decorate a wooden privacy fence!
11) TRENDING OUTDOOR DECOR IDEA…PAINTED DECK FLOOR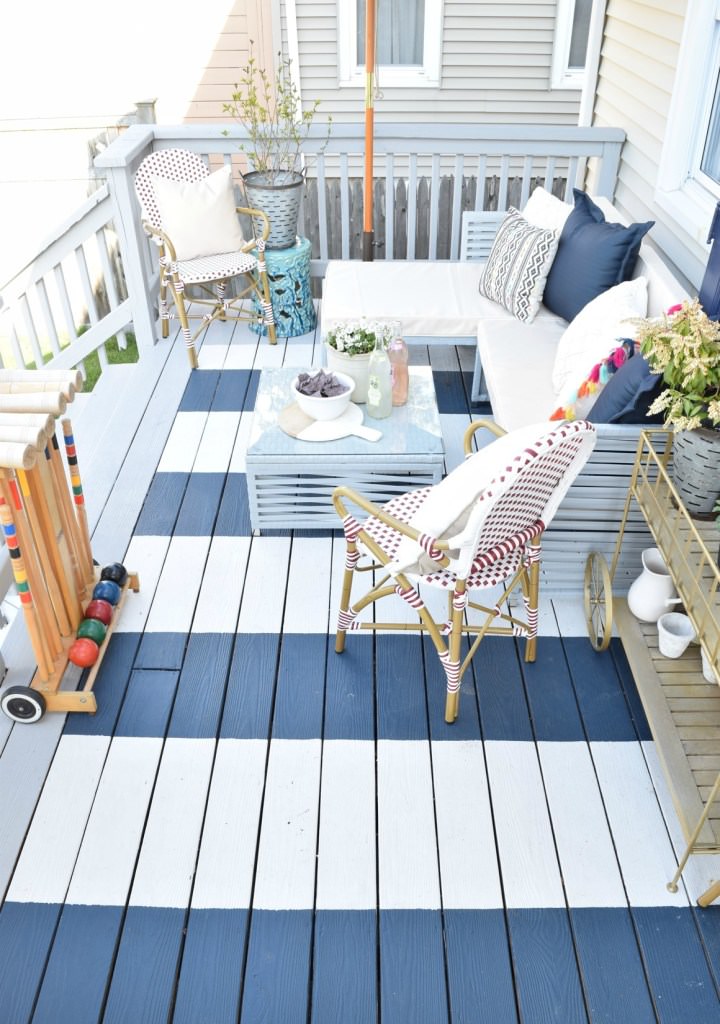 The floor can often be the forgotten element of outdoor design.
Don't leave it out! It can bring huge visual impact for very little money. You can paint a fun pattern, or even a large rectangular accent color to mimic a rug!
12) USE POTTED PLANTS AS OUTDOOR DECOR

Potted plants are really the quintessential design element of outdoor decor, and your space won't look the same without them.
Color, gorgeous softness, texture, fragrance and the list goes on!
You don't have to buy expensive pots. With gorgeous flowers flowing out no one will care what the pot looks like! Grab some potting soil and a good pair of garden gloves and get to it!
13) GRILL UTENSIL OUTDOOR DECOR IDEA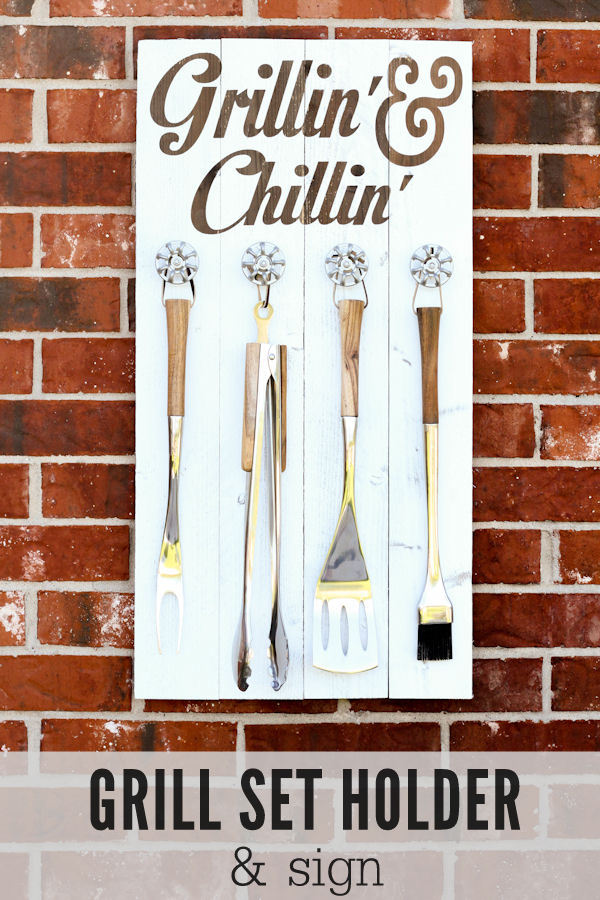 I just love it! My grilling items are always falling off the side shelf of my grill and awkwardly sticking out underneath the grill cover. Turning them into a decor piece is such a great idea.
The ornate hangers and white background are so darling.
14) REPURPOSE AN OLD LADDER AS AN OUTDOOR LIGHTING FEATURE

A fun collection of lights (as pictured), or one oblong hanging lantern would look awesome underneath this repurposed ladder
15) USE OUTDOOR ROPE LIGHTING DECOR IDEA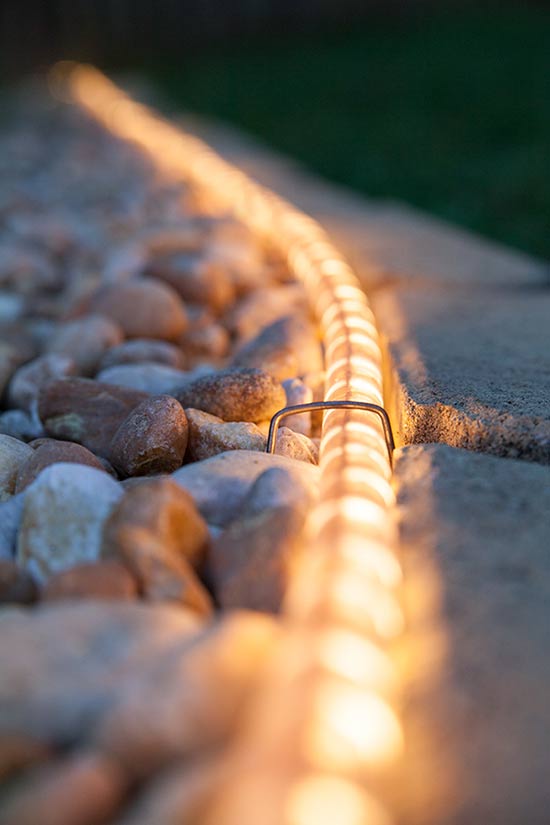 Rope lighting is inexpensive and multi functional. It's perfect to line edges of sidewalks and walking paths.
Lay rope lighting at the base of a rock wall to cast gorgeous feature lighting.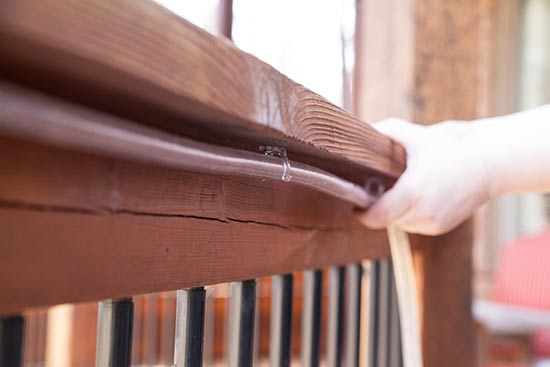 Use underneath the hand railing of your deck for beautiful functional evening light.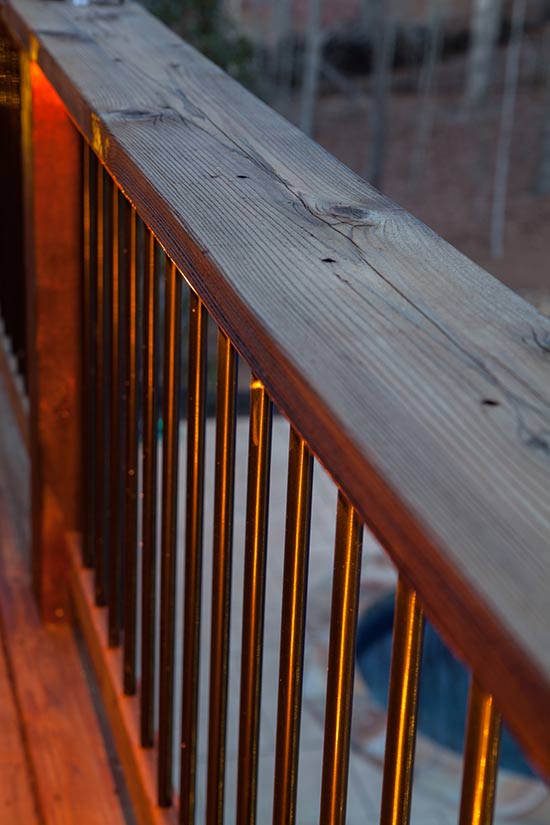 16) ADD A SWINGING BENCH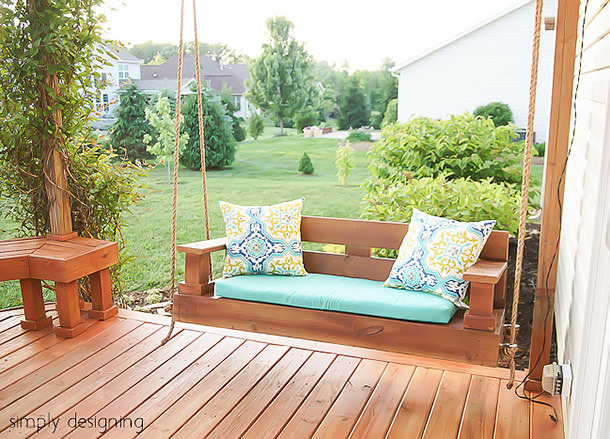 A swinging bench makes any covered porch an instant relaxing station. A couple throw pillows and seat cushion and your off with comfort and style.
17) DIY WALL PLANTER OUTDOOR DECOR IDEA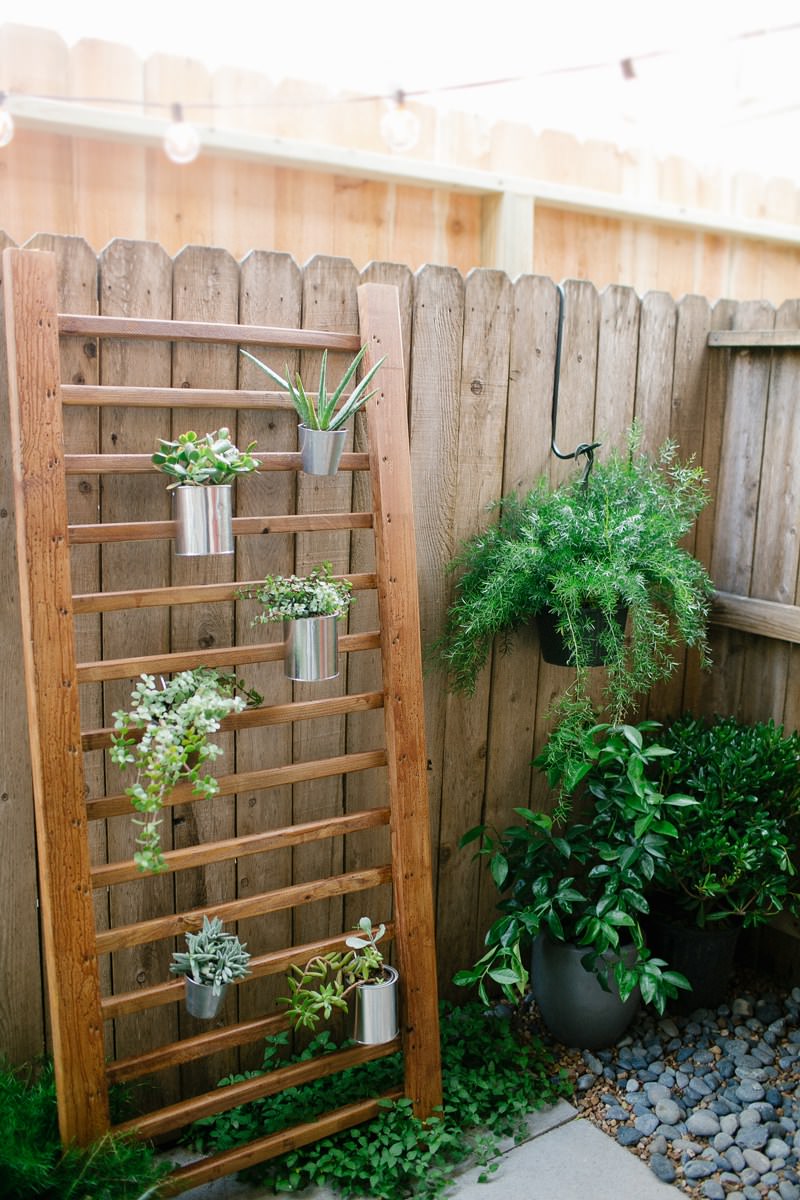 This DIY outdoor wall planter is a great way to bring design to back yard privacy fences and small spaces. It provides a lovely vertical feature piece for these darling succulents. It also would work well as a frame for crawling plants.
The design has elements of farmhouse flair, don't you think?
18) DIY PATIO STRING LIGHTS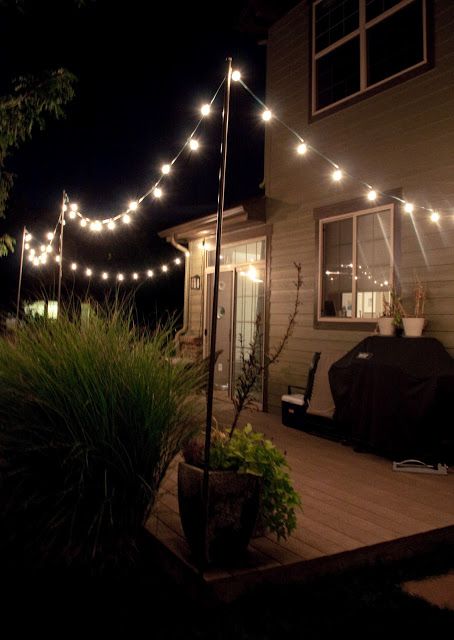 The light show isn't over. These DIY String lighting really help define this open patio. They used rods driven around the corner of the deck as support posts.
19) BUILD A BACKYARD FIRE PIT
At first glance a fire pit like this may seem like a lot of work, but it doesn't have to be. You could do something simpler like the circular rock floor pictured below.
Encircle a fire area with stones or boulders, add some comfy chairs and a couple throw blankets and you're set!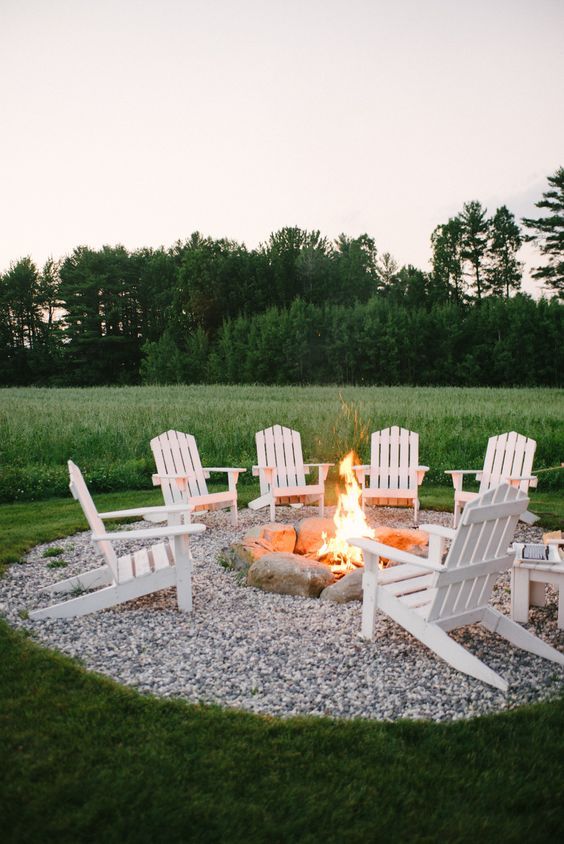 HAPPY OUTDOOR DECORATING!
source: theunlikelyhostess